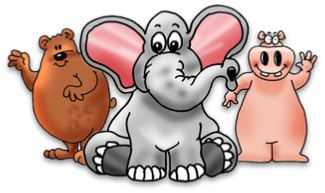 BABY ELEPHANTS, ROARING TIGERS & CHEEKY MONKEYS
These three rooms are situated on the first floor; each of these rooms can cater for up to six children at any one time.
BABY ELEPHANTS
Baby Elephants is a calm and relaxed environment, than can cater for six babies at any one time. The experienced staffs in this room are more than happy to follow any routines you may already have in place at home with your child. Our main priority is to ensure the continuity of care for your child so that you feel happy to leave them with us. All of the toys in this room are age appropriate and at there level so they are able to interact with them with ease.
ROARING TIGERS
In Roaring Tigers the children are encouraged to be more independent with their feeding and are encouraged to interact with other children more, be this through various activates or just in day to day playing. The children enjoy playing with age appropriate toys, which encourage their development and creativity.
CHEEKY MONKEYS
In Cheeky Monkeys the children are eased more into nursery life and routine. Their speech has often developed more which enables them to start forming close friendships and bonds with other children within their room. They are prepared for their transition downstairs with the older children by encouraging the use of cups washing hands before meals to get ready for their routine with the older children.