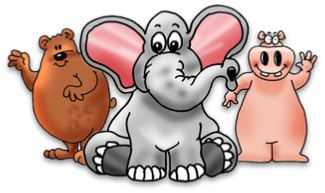 HAPPY HIPPOS & PRE-SCHOOL PANDAS
These rooms are located on the ground floor of the property; we have Happy Hippo's & Pre-School Pandas one and two.
HAPPY HIPPO'S / JOLLY GIRAFFE'S
In Happy Hippos the children are encouraged explore freely and self-select toys and activities they would like to play with to develop their independence and creativity, they're also given the opportunity to take part in group activities to develop their social skills and confidence. The experienced staffs are more than happy to help you with toilet training, which can be a difficult stage for any parent.
PRE-SCHOOL PANDAS
Pre-School Pandas is divided into different areas and the children are actively encouraged to play and explore these. The room is set out like a classroom; children have access to all areas throughout the day. This room has many areas, which include ICT, home corner, painting, sand, water, reading, music and many more. Children are encouraged to be more independent through activities, which include setting the table at meal times.